How ACT helped Grupo Bimbo sign the first VPPAs in Canada to meet its sustainability targets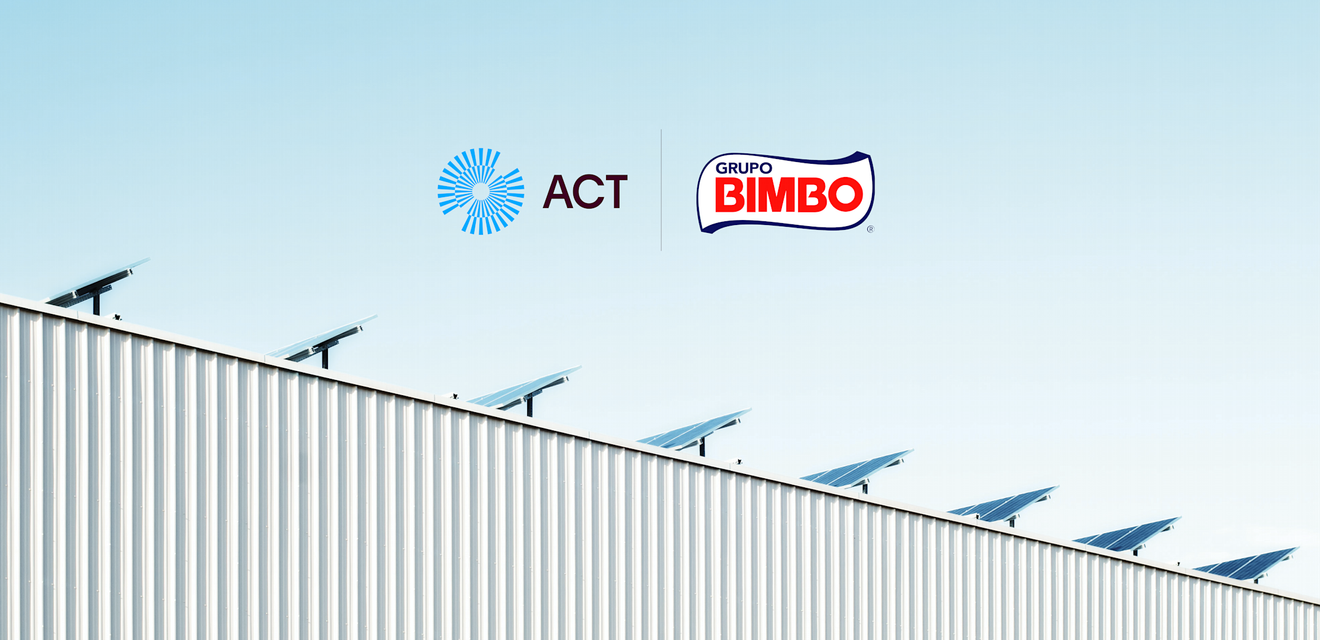 Grupo Bimbo is on a mission to switch to 100% renewable energy across its global operations. Learn how we helped Grupo Bimbo sign VPPAs in Canada to source 100% wind and solar power as part of the company's sustainability journey. 
In 2021, ACT helped the baked goods company Grupo Bimbo secure two virtual power purchase agreements (VPPAs) in Alberta, Canada. These VPPAs contribute to the company's global 100%- renewable energy target. 
The VPPAs were milestones both for Grupo Bimbo and ACT. As a multinational company with a global presence, Grupo Bimbo has the capacity to significantly influence the renewable energy market. Completing this contract was a positive signal to other industry players.  
Acting in an advisory capacity, ACT's contribution to the VPPAs showed the importance of collaborating with experts, especially in a process requiring so many stakeholders to come together toward a common sustainability pledge.  
In this piece, we explore how ACT helped Grupo Bimbo turn its sustainability ambitions into long-term action.
Committing to 100% renewable energy in Canada 
Founded in Mexico in 1945, Grupo Bimbo now operates in 33 countries and employs over 134,000 people. With many recognizable brands, including Sara Lee, Takis, Entenmann's, and donuts, the group maintains one of the world's largest distribution networks.  
So, the group's announcement to commit to joining the RE100 during Climate Week in 2018 was significant for the global energy transition. Grupo Bimbo was the first company in Mexico and Latin America to officially commit to the initiative. Having already signed PPA agreements in the United States and Mexico to ensure 100% renewable power, the group set its sights on Canada with a 2025 deadline to enter into a renewable 15-year VPPA.
"At the time, we had around 14 factories in Canada and around 50 sales and distribution centers," said Irene Espinola, the group's Renewable Energy Global Director, on the decision to focus on Canada. "It's the third- or fourth-largest operation of the 33 countries we're in today, so it was very relevant for us."
The challenge was that the PPA market in Canada was relatively new, so obtaining expert advisory services would be crucial. This is where ACT came in. Juan Camilo Escobar, ACT's Manager of Renewables and Carbon for North America and Latin America, had already read the group's announcement and believed that ACT would be the right partner for procuring renewable energy. He reached out to Espinola, and in 2018 the two firms joined forces.
Overcoming obstacles to launch wind and solar projects in Canada 
ACT and Grupo Bimbo were a productive fit from the start. ACT's global and local networks, and knowledge of Canada's electricity markets, paired well with the group's ambition to invest in renewable energy. ACT was integral in helping Grupo Bimbo navigate changes to the regulatory landscape, which occurred from the beginning of the project to its realization.
As an advisory partner, ACT helped the group understand this new market and how to make a good business case to win board approval. In parallel to collaborating with Grupo Bimbo's internal stakeholders, ACT carefully negotiated with developers until they found one who would prove reliable over the entire 15 years of the landmark project and well into the future. True to ACT's relational approach, the goal was to match the developer and financiers to the offtaker, Grupo Bimbo.
Accelerating Grupo Bimbo's pledge to meet ambitious sustainability goals 
Grupo Bimbo was finally able to put its ambitions into action in 2021. In February, the group signed two VPPAs with Renewable Energy Systems (RES) for a wind project and a solar farm. Both projects, which are set to complete their installations by mid-2022, will generate around 50MW of solar and wind power.
These 15-year VPPAs will allow Grupo Bimbo to meet its RE100 goal in Canada two years ahead of schedule. This tangible commitment to renewable energy puts the company at the forefront of sustainability initiatives in North America and across the globe.
For ACT, working closely with Grupo Bimbo since 2018 cemented a relationship between the two companies that will usher in more successful investments in renewable energy. When asked what advice they could share after collaborating with ACT, Espinola said, "surround yourself with capable advisors. It's critical to communicate your goals internally and get stakeholder buy-in at an early stage."