West Africa's Carbon Markets: Driving Collaborative Climate Action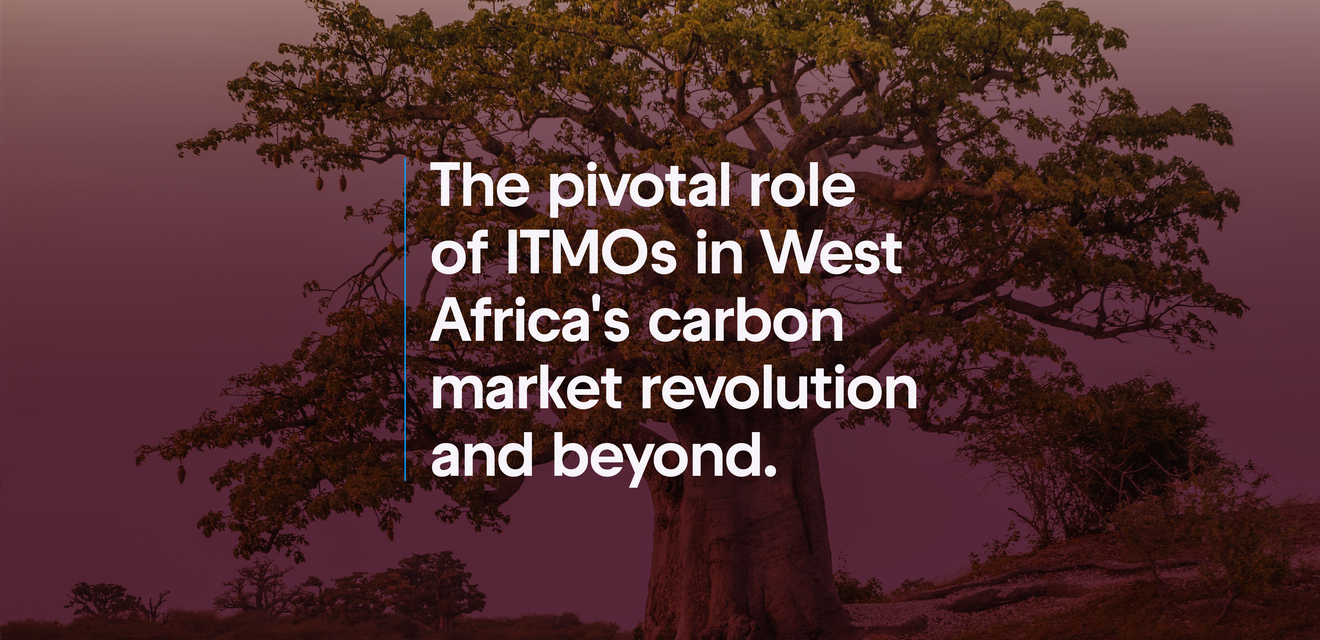 Introduction 
Together with colleagues Jonathan Grassiano and Samuel Waechter-Cass, Daniël de Vries – Manager of Energy & Carbon Market Strategies EU at ACT - recently had the privilege of attending the successful first edition of the West Africa Carbon Market Hub in Abidjan, Ivory Coast. Daniël remarked, "I was thrilled to witness the event's immense popularity reflected in the large turnout and the valuable connections we forged." The experience offered profound insights into the significant opportunities for collaborative efforts within the domain of carbon markets and, more specifically, Internationally Transferred Mitigation Outcomes (ITMOs) under Article 6 of the Paris Agreement.
In this blog post Daniël shares insights from his time at the West Africa Carbon Market Hub, and spotlights the innovative projects in Senegal and Ghana, as well as ACT's initiatives that include Battery Energy Storage Systems (BESS) and clean cooking solutions. Additionally, this blog serves to highlight the transformative power of ITMOs, emphasizing the synergy between climate action and socio-economic development in West Africa while encouraging active participation and collaboration to drive impactful climate solutions in the region.
ITMOs and carbon finance: Catalysts for global climate solutions and sustainable development
Internationally Transferred Mitigation Outcomes, under Article 6.2 of the Paris Agreement, are mitigation outcomes that represent emissions reductions and removals that can be traded by countries under their bilateral agreements. This collaborative framework facilitates the creation of new carbon markets and larger reductions in global greenhouse gas (GHG) emissions. This mechanism highlights the connection between addressing climate impact and promoting the UN's Sustainable Development Goals (SDGs), while also revealing opportunities for private entities to get involved in developing climate action projects that are made feasible by carbon finance through ITMOs.
Pioneering with passion
At ACT, we develop climate projects that facilitate ITMO transfers, propelling us toward a more sustainable, environmentally healthy future that minimizes UN Agenda 2030 dangers and challenges. "ACT sees a lot of potential in the region to develop climate action projects and we are already doing our first pilot Article 6.2 ITMO project activities in Senegal and Ghana," said Daniël.
We understand the vast potential of ITMO projects that help bridge the gap in climate action. Our interdisciplinary team stands at the forefront of developing projects that not only curtail emissions but also create enduring environmental improvements and socio-economic development.
The vision in West Africa
The Carbon Market Hub emphasized the tremendous potential of West Africa under Article 6. Countries throughout the region are taking proactive measures to form bilateral agreements and facilitate a united front in the combat against climate change. "We hope to add many new activities and this event helps to bring everyone in the region together, facilitating connections and new ideas to collaborate with local partners. Moreover, it brings host countries together to learn from one another and avoid 'reinventing the wheel.' Additionally, we want to learn what works to tackle climate change more efficiently through the carbon markets," said Daniël. From inventive renewable energy endeavors to reforestation initiatives, the projects showcase a rich diversity reflecting the varied landscapes they aim to preserve. These projects transcend mere emission reductions or removals, serving as a conduit for development benefits like gender empowerment, food security, energy access, and job creation, thus entwining climate action with robust socio-economic development.
Tangible impacts and opportunities with ITMOs
Let's take a closer look at some groundbreaking initiatives from ACT under Article 6.
Senegal has a bilateral climate agreement in place with Switzerland, there's a project underway that introduces stand-alone Battery Energy Storage Systems (BESS), as well as BESS integrated with renewable sources. These systems will offer multifaceted benefits to the Senegalese grid, including grid regulation and load shifting.
Ghana's ITMO venture is uniquely positioned to focus on clean cooking solutions as a part of its Nationally Determined Contribution (NDC) target. Recognizing the gap in rural outreach, this initiative is dedicated to promoting efficient cooking stoves in these areas. The goal is clear: to minimize greenhouse gas emissions in remote regions and bolster Ghana's climate protection strategies.
Partnering for climate change solutions in West Africa and beyond
The future of West Africa is exceptionally promising when it comes to achieving climate action through carbon markets, and your active participation can make a difference. "At ACT, we are fully committed to helping countries in the West African region to tap into these carbon markets by developing climate action projects that help to achieve the NDCs in a cost-efficient way," said Daniël.
Partner with ACT to embark on your climate action journey. Whether you're an organization seeking impactful climate initiatives or an individual passionate about sustainability, collaborate with us to make a real impact on people, biodiversity, and the environment. Reach out to our team at climateprojects@actcommodities.com and start your journey towards a sustainable future today.