ACT Commodities Group Offers New Approach for Funding the Recycled Plastic Market Expansion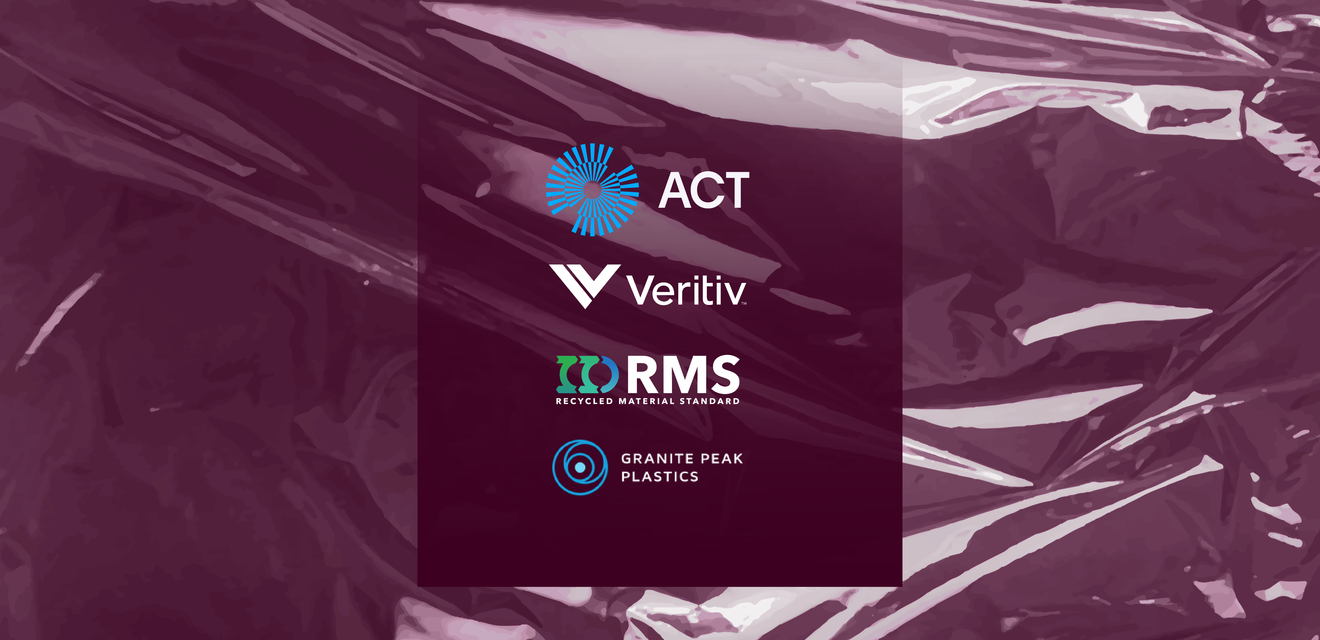 By selling Attributes of Recycled Content (ARC) Certificates to Veritiv, ACT Commodities Group has provided recyclers with a new revenue stream to expand processing capacity in North America. 
New York, USA - ACT, the leading global provider of market-based sustainability solutions, has helped design and develop the first plastic recycling project that generates Attributes of Recycled Content (ARC) certificates under the GreenBlue/Recycled Material Standard (RMS). Veritiv, a leading provider of packaging solutions, is taking a significant step toward developing a circular economy by supporting North American recycling infrastructure and purchasing ARCs from Granite Peak Plastics through its partnership with ACT. ACT is pioneering the use of ARCs to finance advancements in industrial plastic recycling.
"ACT is excited to facilitate Veritiv's investment in North American recycling infrastructure and drive the use of recycled plastics through the sale of these ARC certificates," said Ronald Rozgonyi, CEO of ACT's U.S. business.
An ARC certificate is a new environmental commodity which allows the environmental attributes from recycled materials to be traded separately from the physical commodity. One ARC certificate entitles the holder to claim the environmental attributes associated with one metric ton of output produced from recycled input materials. Similar certificate trading systems are well established and successfully used in other sectors, such as renewable energy certificates (RECs) and carbon credits.
"With ACT, we have now found a new approach to owning the investment into recycling infrastructure," said Martha Issa, Senior Director of Sustainability at Veritiv Corporation. "We have been looking at various ways to improve the overall environmental impact with regard to the packaging products we distribute, and we are pleased to help the circularity of single-use plastics by investing in infrastructure for certified recyclers."
This first transaction of certificates supports post-consumer polyethylene (PE) processing lines at Granite Peak Plastics — a post-consumer plastics recycling company focused on circularity and one of the first certified generators within the ARC trading system. This creates an additional revenue stream for Granite Peak Plastics to expand its processing capacity and increase post-consumer PE and polypropylene (PP) production within the U.S.
"When I was approached by ACT about the ARC concept, I was impressed with their innovative spirit toward solving aspects of the plastic waste issue. ACT has grasped the essential disconnect between the market — which wants pure, almost unused recycling material for consumer-facing packaging, and the reality of the supply, which is more suited to the molding of durable goods. The ARC concept bridges this disconnect in a creative way that is a win for the entire supply chain," said Greg Janson, President of Granite Peak Plastics.
Relying on its deep experience with the renewable energy market, ACT informally advised and consulted RMS in its creation of the ARC trading system. The RMS establishes requirements necessary to assure the accuracy and transparency of claims with the support of a robust third-party certification system and serves as a voluntary, market-based tool to address the challenges that brands, their suppliers, and the recycling industry face in trying to incorporate higher amounts of recycled content into packaging or finished products.
Director of the RMS Program, Ross Bergman, said, "This ARC trade demonstrates the value recycled material commodities provide to companies across the recycling value chain. It's great to see Granite Peak Plastics being directly compensated for its infrastructure investment, improving ROI, and creating new revenue streams aside from material sales. The recycling system in general needs assistance, and ARCs are the incentive to spur the whole system — just like RECs did for renewable energy."
Working with RMS, ACT became registered as the first trader in the system and helped recruit suppliers and recyclers to be part of the program.
ACT has provided organizations with the tools to lower their emissions and achieve sustainability goals for over 13 years. Through this collaboration with RMS, Veritiv and Granite Peak Plastics, ACT is helping parties access innovative solutions for advancing the circular economy and funding the expansion of the recycled plastic market.

About ACT

ACT Commodities Group helps organizations achieve their climate action goals, no matter how ambitious. Since its founding in 2009, it has become a reliable partner for high-impact climate projects that generate carbon credits, energy efficiency projects and certificates, renewable fuels, emission allowances, and experts in renewable electricity and gas markets. ACT's Amsterdam, New York, Paris, Shanghai, and Singapore teams deliver tailor-made solutions backed by extensive market knowledge. Since the beginning of the energy transition, ACT has been an early adopter, constantly finding new products and participating in new markets. In shaping environmental markets, ACT enables organizations to pursue sustainable futures.

About Veritiv

Veritiv Corporation (NYSE: VRTV), headquartered in Atlanta and a Fortune 500® company, is a full-service provider of packaging, JanSan and hygiene products, services, and solutions. Additionally, Veritiv provides print and publishing products. Serving customers in a wide range of industries both in North America and globally, Veritiv has distribution centers throughout the U.S. and Mexico, and team members around the world helping shape the success of its customers. For more information about Veritiv and its business segments visit www.veritivcorp.com.