How ACT is helping Microsoft hit its 2030 carbon-negative target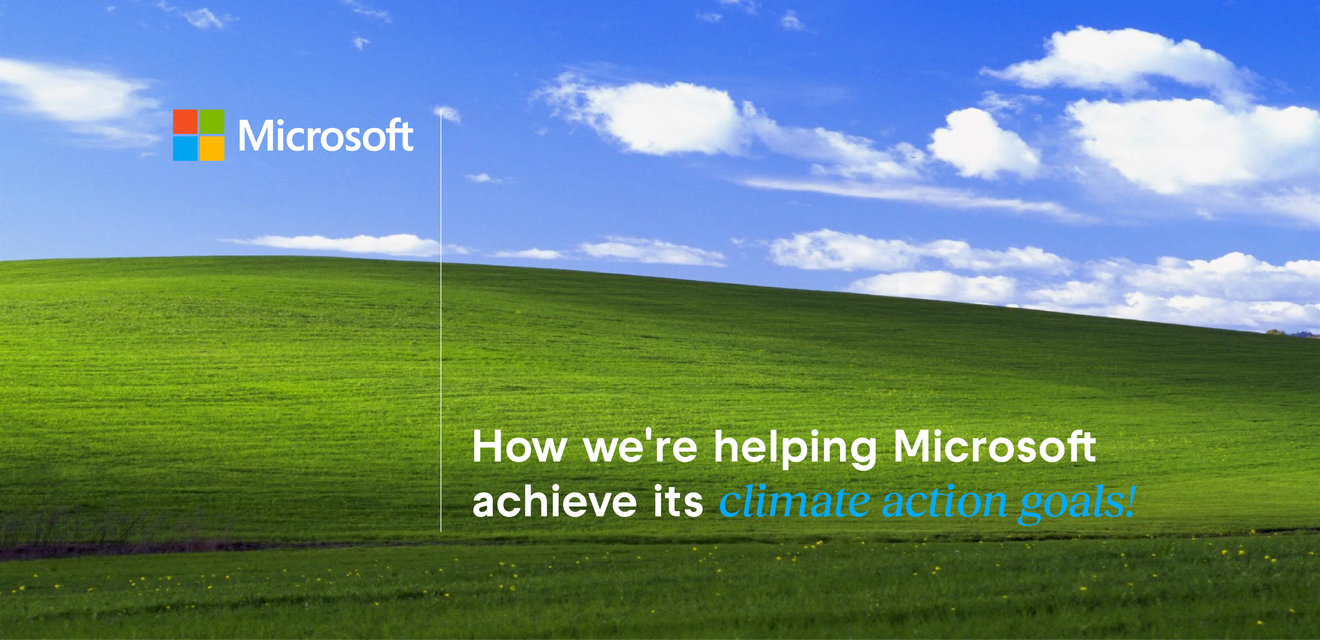 ACT specializes in helping organizations achieve their climate action goals – no matter how ambitious they may be. After hearing that the Microsoft Corporation was accepting carbon removal project proposals for its 2022 Carbon Removal Program, ACT's Americans team leaped into action. 
Microsoft has set the ambitious sustainability goal of becoming carbon negative by 2030. An inspiring goal, meaning the company will have to reduce its greenhouse gas emissions by more than half and remove the rest. Going above and beyond, the company has also pledged to remove the equivalent of its historical emissions by 2050. Clearly, its need to invest in carbon removal projects is great.     
ACT's Patricio Ortiz and Juan Camilo Escobar were eager to help Microsoft realize its ambitions by creating ACT's first designed and developed carbon removal project that generates carbon credits. Relying on their extensive environmental market expertise and experience, they immediately thought of a long-term partner, Freres Lumber, as a potential project owner. Freres Lumber, a family-owned premium wood products manufacturing company established in 1922, had already partnered with ACT to generate and market biomass Renewable Energy Certificates (RECs) and seemed like the obvious choice to partner with on this endeavor as well.    
When ACT proposed the plan to Freres Lumber to design and pitch a project together for Microsoft, they gave an enthusiastic "yes!".
"We already knew working with ACT meant working with experts, so when they came to us with this exciting and well-thought-out plan to develop a project for Microsoft, we couldn't wait to get started," said Vice President of Operations for Freres Lumber, Kyle Freres.

The project 
The project centers around producing biochar, a charcoal-like substance that is both the byproduct of steam production and extremely efficient at storing carbon. Freres Lumber had already been producing biochar as a byproduct of their business activities, but where others saw waste, the innovative and pioneering spirits of ACT and Freres saw carbon-capturing and climate action opportunities. Instead of disposing of the biochar in landfills, they found a way to harness its power to raise soil PH, increase water infiltration and retainment rates, and promote healthy fungal and microbial populations. They also realized the tremendously valuable benefit biochar has in reducing wildfires, as its production drastically reduces the amount of forest floor feedstock and debris.  
"Biochar is an underutilized material that is not fully appreciated in the industry with tremendous potential for carbon mitigation," said Juan Camilo Escobar, Manager of Renewables and Carbon at ACT. "With Microsoft's investment, our joint project with Freres will lead to new innovations in biochar production and utilization across many industries."   
Freres has committed to reinvesting 75% of the credit sales proceeds from Microsoft into research and development around biochar production optimization and further usage potential, giving the project critical additionality. Vice President of Operations for Freres Lumber, Kyle Freres, explained "Biochar production, in conjunction with forestry product systems, provides the opportunity to treat underused biomass in an economical and environmentally beneficial way. We intend to continue developing carbon-reducing byproducts from wood products to help companies like Microsoft achieve their sustainability goals."  
To ensure that the biochar this project produces ends up in arable topsoil and is not burned, Freres will only be selling it to users in the horticultural and landscaping sectors. This will be easy, as Freres has a direct and close relationship with its customers. Since none of the biochar produced by this project is being burned, it will remain in the soil for centuries; the avoided emissions and permanence factor allow biochar to be an effective carbon removal method. 

Ensuring success  
Naturally, the standards for a carbon removal project that a company like Microsoft would deem fit to invest in were exceedingly high. This meant that Freres Lumber and ACT would need to design and develop this project in a way that lived up to Microsoft's commitment to only select projects that provide maximum positive impact and maintain a high degree of scientific integrity.  
Microsoft's robust project selection process is an industry model; the company carefully screened each project submission for its practicality, transparency, durability, consistency, and potential to transform the market by supporting innovative removal solutions. By working diligently, holistically, and closely together, ACT and Freres Lumber designed a project proposal that met each requirement and, of course, resulted in their project being selected.  
"As part of the path to our carbon-negative goal by 2030, we are glad to purchase biochar-based carbon removal credits via ACT from the Pacific Northwest-based supplier Freres," said Elizabeth Willmott, Carbon Program Director at Microsoft.

The result
The project is an overwhelming success for ACT, Freres Lumber, Microsoft, and most importantly, the planet.  
ACT and Freres Lumber are helping Microsoft get closer to achieving its sustainability goals. Additionally, thanks to Microsoft's high profile as a company, it is also putting weight behind this technology, building confidence in its potential. By combining forces on this innovative project, not only have all parties been able to achieve more, but the reach is more significant. This means the added goal of inspiring other organizations to finance biochar projects is that much closer the being realized. The more climate action being taken, the better.  
Freres Lumber now has the financing it needs to lead the way in sustainability in the lumber sector and, indeed, to explore the optimization of biochar in general. Freres Lumber will be focusing on all biochar's soil amending properties and its uses in fire reduction programs. And, of course, they now have an additional source of revenue by selling these newly created CO2 Removal Certificates, or CORCs.    
After such a successful and mutually beneficial project, all parties hope to continue this collaboration into the future. By working together, climate action efforts can be amplified, a greater impact can be made, and more sustainability goals can be achieved.